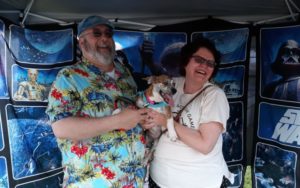 Strawberry Festival 2019
Many thanks to all who participated in and attended this year's Strawberry Festival! It was held on Saturday, May 4th, and had something for every age group. Inside Slater Hall, there was dancing by the Irish Dancers from the West End, a theatrical presentation by the Travelers Theatre, rousing music by Authenticity, mind-blowing magic by The Magic Man, improv by Adliberation, and karate at its best, performed by Living Water Martial Arts.
On our outside stage, we opened the festival with the Slater-Marietta Green Wave Chorus, led by Ms. Brenda Lee, and then enjoyed an afternoon of timeless music by Main Street, one of our local favorites.
We were excited to host over 50 arts and crafts vendors, with everything from jewelry to pottery, and caricatures to face painting. Top that off with a host of twelve food trucks and vendors, serving a variety of foods to satisfy everyone's taste buds, including STRAWBERRIES!
One of our highlights for this year, given the date of the festival being May the 4th, was our "May the 4th Be With You" Dog Costume contest. With the help of PetSmart and Blue Buffalo, our Star Wars-themed contest allowed us to get photos of dogs dressed in a Star Wars costumes, and our panel of judges picked the winner, who won a large gift basket put together by PetSmart and Blue Buffalo. Our winner was "Lazarus" who was a very convincing Yoda!
We love hosting this event for our community, and hope that everyone will plan to join us again next year. The festival is always held on the first Saturday in May!